Each week, BetPrep's Player Prop Guru and NBC Sports Betting Analyst Brad Feinberg discusses how the site's historical data shaped his picks with Michael Salfino of The Athletic and FiveThirtyEight. He then reveals his top NFL player props for the week. Here are some highlights from the latest episode of the Givin' Props Podcast.
Courtland Sutton OVER 23.5 Receiving Yards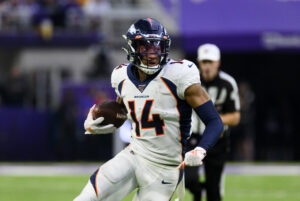 Michael: Brad we had to cancel last week because the prop market was so depleted due to COVID and things are not much better this week. But we're going to give it a shot here amidst all the chaos and try to build on your sterling 76-40 record for the year – a 65.5% win rate. Let's start with the Broncos and a struggling receiver, Cortland Sutton, who you like Over 23.5 receiving yards. 
Brad: Sutton has just been brutal. He's somehow gone under this total four straight games. And they have a legit downgrade at quarterback with Drew Lock in for Teddy Bridgewater (concussion). I make my own numbers using BetPrep averages and that number for me was 33.5, a huge difference. Again, via BetPrep, Sutton is Over this number eight of his last 14 and 37 of 47 for his career. Maybe I'm just giving too much respect to his bigger sample and not enough to this horrible cold streak. I understand how bad he's been. But he still plays a lot. He's a starting wide receiver and it doesn't take much to hit this. You have to hold your nose a little bit here, but with this number this low you don't need much to go right.
Aaron Jones UNDER 53.5 Rushing Yards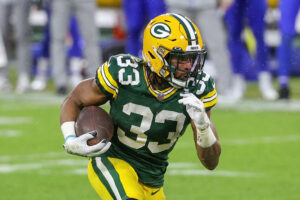 Michael: Aaron Jones Under 53.5 rushing yards. He is solidly committee-ed by A.J. Dillon is not usurped. 
Brad: I saw this one coming a mile away. I had Aaron Jones on fantasy teams. He's one of my favorite players and he's good. But I said to my partner weeks ago, "We're screwed (with Jones)." Listen to this: The last seven games. Seven. Not one, not two. I feel like the Miami Heat LeBron thing: Not three. SEVEN games. We played 14. So this is half the season. What do you think he's averaging his last seven games? 38 yards. And the two games he went Over it was 58 and 59, so he barely squeaked Over. I don't think this is one of those timeshares where it's 70/30. This is 50/50. Getting 54 yards when you're only getting 10 carries is not easy
Aaron Rodgers OVER 254.5 Passing Yards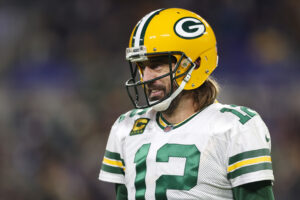 Michael: And you think more passing with Green Bay against the Browns, so Aaron Rodgers Over 254.5 yards. 
Brad: He's been playing phenomenal. He's become the MVP favorite (which we gave out at +600 two weeks ago on Givin Futures) by averaging 319 passing yards the past five games, 5-0 to this Over. When I saw the number this low, I really did a double-take. I had it at 280. I have to give him more than the 268 he's averaged (for the season). I don't have crazy mad respect for the Cleveland defense, which is banged up with Myles Garrett looking hurt. So again the number should be 25 or 26 yards higher. The weather initially was supposed to be bad but the forecast as of Thursday is not bad. Rodgers is amazing. He's become the MVP favorite again, based on what he's done these last five weeks where he's just been the best player in the league.
Derek Carr UNDER 252.5 Passing Yards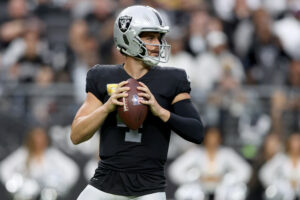 Michael: Another QB, Derek Carr, going the opposite way of Rodgers and you think Under 252.5 yards. 
Brad: Here they're working off his season average, which is 297 yards a game. But since he lost (Darren) Waller, it's not the same party (for the Raiders offense). You look at the last three games, he's gone 249, 263, 236. Before the great game against Dallas, the overtime win, he was 215 and 261. I think Denver's defense is playing well. I think this is going to be low-scoring. My number is about 241. I don't think it's a Derek Carr thing. Remember "Seinfeld" where George goes, "It's not you. It's me." I don't think this is a Derek Carr thing. I really don't. I think this is just the players around him. I don't Carr's suddenly magically gotten bad. I just don't think he has the personnel right now to get to 253 against a defense that has played for the most part pretty well.
Michael Pittman OVER 4.5 Receptions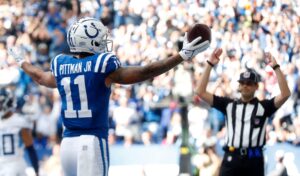 Michael: Michael Pittman I thought was 4.5 yards with the way that Carson Wentz played in Week 15 but it's Over 4.5 CATCHES. 
Brad: (Laughs.) Yeah, Wentz is like the anti-Derek Jeter. Things somehow always go wrong and not right for him. Look, Pittman is not Jonathan Taylor. But he's been such an important part of this team. And when Wentz does throw the ball, he's been throwing it to him. Pittman averages five catches a game. But like we talk about, the casino can't make it 5.0, which is the right number, because they can't tolerate a tie. So they had the choice between 4.5 and 5.5 and picked 4.5. If they picked 5.5, I'd be Under. If they landed correctly on 5.0, I'd say, "Dealer's Choice." I bet numbers, not players. But 4.5 vs. 5.0 is a big difference. They are giving you a catch, basically. That's a 22% difference. It's big.
More NFL Player Props For Week 16
For more of Brad's NFL Week 16 props, listen to the full Givin Props podcast here.