This week, BetPrep Sharp Brad Feinberg discusses his top NFL and MLB futures (as of May 4, 2022) with host and BetPrep Editor Michael Salfino of The Athletic and FiveThirtyEight. Future bets include the New York Jets, Indianapolis Colts, Philadelphia Eagles, Minnesota Twins, Aaron Judge, Mike Trout, Joe Musgrove, and more.
The following amaff are edited excerpts of Feinberg's analysis from the latest episode of Givin Futures. Listen to the full episode for more NFL/MLB futures and betting strategy talk.
Where To Bet NFL, NBA, & MLB Futures
DraftKings Sportsbook has an excellent selection of NFL, NBA, and MLB futures. You can find each of the bets listed below as well as enticing specials across multiple sports. If you are new to DraftKings Sportsbook, then check out our welcome offer below to boost your bankroll (with a deposit bonus) before even placing your first bet.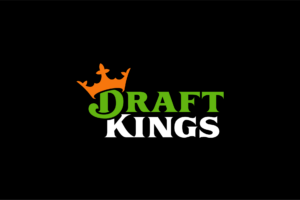 Top-Rated User Experience
World-Renowned Brand
Comprehensive Selection of Sports
Joe Musgrove 60/1 To Lead MLB In Wins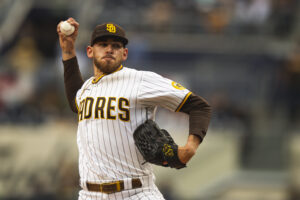 Brad: He has four wins. I bet this on Sunday after he basically got his fourth win, though the game wasn't over yet. This is like live betting. You should always get that free edge that is going to change the number before it changes the number. I think 18.5 wins gets you right there to win it. The era of the 20-game winner is over. He has four wins in five starts and this is without the best player on the Padres in Fernando Tatis Jr. He's not survived this, he's thrived. If he's healthy, he has 28 starts left so he has to win half of them and most of them will be with Tatis. The Padres are a good team. He's won 15 of 37 starts thus far for the Padres. So it's not that unreasonable that he can win 14 of 28. It's certainly not a 1.6% chance, as the odds say.
Minnesota Twins 25/1 To Win AL Pennant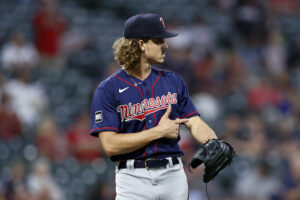 Brad: You had a great stat that, since 2019, when Byron Buxton plays the Twins are 26 games better per 162 games than when he doesn't. This year, 11-5 when he does, and 4-5 when he doesn't. They're fourth in ERA. Carlos Correa hasn't gotten hot yet. Joe Ryan could win the Rookie of the Year. He's gotten off to a tremendous start. Dylan Bundy has mostly been good.  Maybe Chris Paddack can be rejuvenated there. I think this is a nice team. I believe they are a playoff team and then I'm just leaning into the randomness of the playoffs where I think they have better than a four percent chance to win the pennant than these odds say. Now, I know their playoff record is terrible. They've lost 18 postseason games in a row. But obviously, that's a fluke and really doesn't mean anything, in my opinion, when the 2022 playoffs start. You make the playoffs and anyone can beat anyone.
Aaron Judge 20/1 Most HR In MLB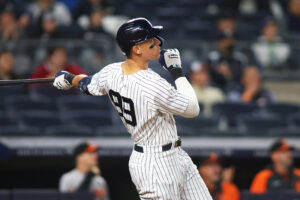 Brad: Judge of course did it as a rookie. Since then, he's averaged 43 homers per 162 games. I think with the ball this year and the humidors maybe 43 homers win it. He has nine already in 24 games. If he can stay healthy and play 150 games, can he hit 32 more in basically 125 games? That would be expected. He hit 36 in 130 games in 2019-20. How many guys can win this? I'm going to throw out CJ Cron. I'm going to throw out Anthony Rizzo. I'm calling no freakin way. Ever. Maybe Vladimir Guerrero can do it, but he's such a favorite. Jordan Alvarez, Alonso, Trout, Buxton. I'm trying to get as many of these guys cheaply as I can so I can just start crossing off the squares. Corner the market. I've basically taken every guy that can win it except Vlad. If Vlad wins, I lose. I take my medicine. It's nothing against Vlad, it's just his odds are not attractive.
Trout at 25/1 For Most HR In MLB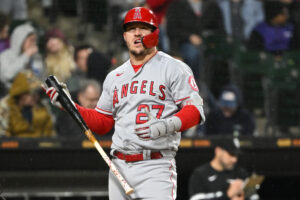 Brad: He's never won this but per game, he's right there. Since 2019, he's averaging 51 homers per 162 games. So this is just a stupid number. It's all about expecting him to miss games. If you knew he wouldn't go on IR all year he'd be 6/1. I mean, again, he's one of just a few guys that can win this thing realistically, I would take any Mike Trout 20/1 or higher even with the injury risk this is a great bet. He absolutely has a 5% chance to lead MLB in home runs. You're basically betting on him to stay healthy.
For more futures, including NFL team futures post-NFL draft, listen to the full Givin Futures podcast here.