Now that we've talked about Josh Lowe and AL Rookie of the Year futures, let's move on to the pitching futures you like the best. Of course, you always favor the under because of injury. But your goal with these futures is to make bets you still think can win even if the player stays healthy. That way, the injury risk is your edge. Correct?
Brad: 100%
Where To Bet MLB Season-Long Player Props
DraftKings Sportsbook has an excellent selection of MLB season-long player props. You can find each of the bets listed below as well as enticing specials on MLB teams and players. If you are new to DraftKings Sportsbook, then check out our welcome offer below to boost your bankroll (with a deposit bonus) before even placing your first bet.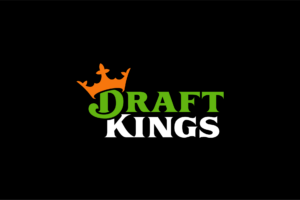 Top-Rated User Experience
World-Renowned Brand
Comprehensive Selection of Sports
Zack Wheeler Under 13.5 Wins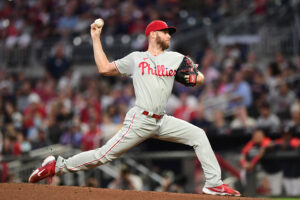 Brad: Where there's smoke, there's sometimes fire. I'm hoping to lose this bet. I like the Phillies (we talked about them as a Pennant and World Series bet). I hope they have a very good year. But besides him starting the season late due to a shoulder injury, in his best year, his historic season, he won 14 games. I'm just going by the odds, you know, whether it's injury or not, he's hit this over one time in his career. And he squeaked over it. And I do expect he'll miss more than the one start this year. 
Patrick Corbin Under 11.5 Wins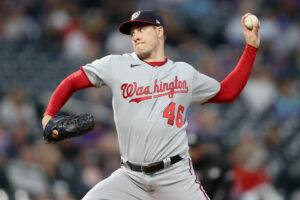 Brad: When I saw this, I shook my head. They basically made almost all these guys around the same number. And Corbin to me is not like those guys. He's had a nice career. He's won 100 games. Last year, 5.82 ERA. He's a below-average picture right now. And I don't think I would call the Nationals an above-average team. Those two things make this a plus bet.
Robbie Ray Under 243.5 Strikeouts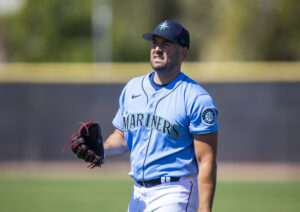 Brad: He wins the Cy Young with a career year and has 248 Ks. Barely over. He was tremendous in 2021. But can he do it again? Consistency is what made Peyton Manning or Tom Brady or Greg Maddux or Clayton Kershaw so great. Baseball is a sport where you can get a guy like Ray to come out of nowhere and then not stay there. He did do it once before in 2017. But he's only gone over 243.5 Ks one time. Plus, how many innings is he going to pitch? If he regresses to his career rate in control, more pitches, fewer batters, and fewer innings. 
Justin Verlander Under 220.5 Strikeouts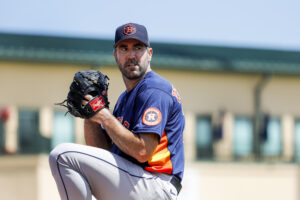 I don't know Brad, about underestimating Verlander. He was the last pitcher to throw 250 innings in MLB 2011.  It's been 10 years. Are the Astros going to baby him with innings? 
Brad: I have so much respect for this pitcher. This could be a bad play. He's just freaking incredible. But what's his workload now at age 39 coming off Tommy John? I think that they're going to maybe do some of the six-man staff. Instead of him getting 34 stars, maybe he gets 27. Maybe instead of 220 innings, he gets 180-190. Maybe the stuff is not as good as it was in 2019 when that still could be 300 Ks. 
Yu Darvish Over 9.5 Wins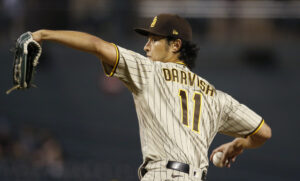 Finally, an over you like! 
Brad: This is a legitimately good starting pitcher on a legitimately good team. He was dynamic in the first half of 2021 before he was injured (hip). He's healthy now. And they give him the lowest O/U on the board? You're just trying to beg me to freakin' bet the Over and, congratulations, you got it done. 
Want More MLB Futures & Sports Betting Advice?
For more 2022 MLB futures, listen to the full Givin' Futures podcast here.