Each week, BetPrep NFL Sharp "Tommy The Hitman" discusses every game through the eyes of a professional sports bettor with host and 30-year sports talk radio vet Jody McDonald of CBS Sports Radio. Tommy then proceeds to unveil his top NFL picks of the week.
After a clean 3-0 sweep on NFL picks last week, let's see what Tommy has in store for Week 16.
Here are some recent highlights from the latest episode of Hot Read Hits, the official NFL podcast of BetPrep:
Bills at Patriots (minus-2.5, Under 43.5), Sunday, 1 p.m. ET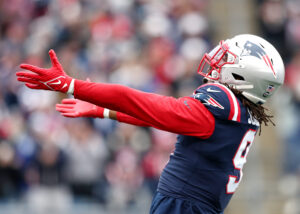 Note the two NFL picks here, Patriots and the Under.
The Bills are committed to running a bit more if Week 15 is any indication. They saddled up Devin Singletary on Sunday for 22 carries against Carolina.They registered the fifth-lowest pass rate of Week 12 in New Orleans (45%). And their situation-neutral pace has also dropped from where it was through the opening eight weeks when it was 27.1 seconds per snap (fifth fastest). It's since been down to 30.1 seconds per snap (19th).
The Patriots are an under team: New England games yield the second-fewest combined plays and eighth-fewest total points.
Also leaning into the Under is the fact that these are two great pass defenses: Buffalo (5.1 yards) and the Patriots (5.5 yards) are first and second in yards allowed per passing play.
Josh Allen has been struggling against good defenses. Allen has played seven games against top-12 defenses in passing EPA this season (the Patriots are first) and in those games, Allen has thrown for more than 6.2 yards per pass attempt just once. This of course supports the Patriots' side.
Also boosting New England is the Patriots just having beat the Bills with a power brand of football. Buffalo also has struggled against other power-run teams they faced this year in Indy and Tennessee.
The Patriots may not be able to throw if they want to with wide receivers Kendrick Bourne, N'Keal Harry, and Nelson Aglohor all questionable. The Bills are without WR Cole Beasley (COVID)  and could be without WR Emmanuel Sanders. This lowers the expected pass attempts and points.
As for broader trends, since the start of the 2020 season, 19 of 30 Pats games have gone Under.
Broncos at Raiders (Under 41.5), Sunday, 4:25 p.m. ET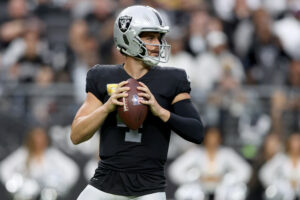 The Raiders have averaged 13.3 points per game their last three games without Darren Waller. They have had only two 20-plus-yard pass plays without him. They have scored 16 or fewer points in six of their last seven games. QB Derek Carr has now thrown one or fewer touchdown passes in five straight games and in six of the seven games since the bye.
The Broncos are likely to play conservative without Teddy Bridgewater at QB. He's out with a concussion. Drew Lock has been terrible in his career and far worse in 2021.
And even with Bridgewater (mostly), Denver is handing the ball off at the fifth-highest rate in the NFL. This tendency should be more pronounced with the big downgrade at QB with Lock under center.
More specifically regarding Lock: In relief duty at varying spots this season, Lock is 22-of-40 (55.0%) passing for 227 yards (5.7 Y/A) with a touchdown and two interceptions. His QBR this year is 4.4. His sack rate of 11.1%, which is beyond terrible, is nearly twice Bridgewater's.
Denver also operates at the fourth-slowest situation-neutral pace. Its contests average the fifth-fewest combined plays and, by far, a league-low in total points (37.7). The Broncos allow the fourth-fewest points on a per-snap basis despite their defense lagging below preseason expectations in most advanced stats.